Buy Buttons System





Ecommerce Online Payments



Using the Buy Buttons System requires little programming knowledge and is the easiest to set-up. If you require a shopping cart but lack the skill to create one, VeriPayment.com offers its own shopping cart that is easy to use and is seamlessly integrated with its system.



By adding simple HTML on your web pages, your customers are directed to VeriPayment.com's secure payment page where your customers' credit card information as well as their billing and shipping information is captured. After a successful transaction, your customers are redirected to a thank page on your site.

If you necessitate an answer to be sent back to your server regarding the status of a transaction from VeriPayment.com, you may use the optional Backend Payment Notification System. For example, if you were selling a subscription where your customers would have access to your web site's content, you could use the Backend Payment Notification System to immediately grant access to your customers after they had made a purchase.

Click Here to Sign Up or call our toll free number

1-866-972-8765

to talk to a account manager now.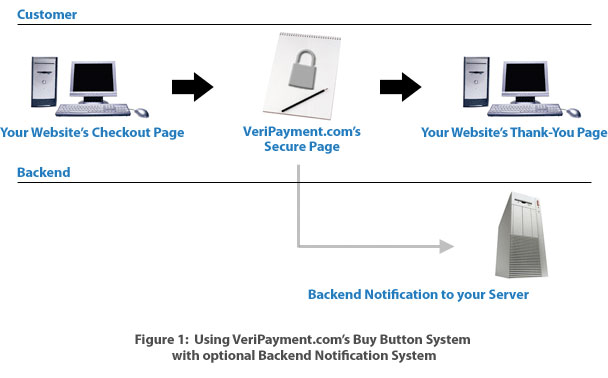 This system gives you total control on the look and feel of the experience because your customers never leave your web site.
The Virtual Terminal (VT) is a great tool for merchants who have offline orders generated by mail order/telephone order sales (MOTO).