Online Credit Cards
Credit Card Processing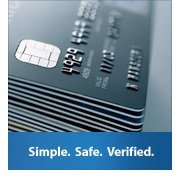 The functionality, authenticity and quality of an Internet purchase cannot be truly known until both the merchant and consumer are verified and authenticated.

If you're a web merchant with products or services or content to sell, VeriPayment.com has a turnkey e-commerce solution that's designed just for you. Our simple, real-time, verified secure payment processing solutions will get your online sales up and running quickly!

VeriPayment.com is a totally outsourced payment processing solution where it handles all banking, risk management, affiliate management and customer service issues for Internet merchants selling products and services.

An effective online transaction solution must provide the ability to efficiently track and manage your transaction activities. VeriPayment.com provides detailed, point-to-point tracking of every transaction throughout the billing and payment process. Our advanced reporting module is a powerful tool that provides extensive business intelligence about Customers and Accounts in real-time.

Process in multiple currencies
24/7 Call Center Support (for both You and Your Customers)
Complete webmaster administration (with real-time reporting functionality)
Individually assigned account managers
Integrated fraud prevention to reduce chargebacks and identity theft
Webmaster referral and affiliate program (coming soon)
Payouts every 7 days
Easy installation options for both UNIX and NT Servers
Complete SSL encryption
Password management and new password protection features
Verified identity accounts
Safe and Secure
Cutting-edge Identity fraud screening
Chargeback and refund management
State of the art merchant support/toll-free number
Superior cardholder support/toll-free number
Advanced bank-level security and encryption systems
Customer black list records
Customer white list records
Benefits
Economical access to real-time transaction capabilities in a matter of minutes through VeriPayment.com's simple online registration process.
The ability to accept or refuse payments from only verified clients to ensure accuracy, quality and authenticity.
Quick & timely processing of orders.
Detect more single-event fraud as it occurs
Detect fraud trends more quickly
Convert more valid orders, automatically
Minimize time, cost of manual review (risk profile codes speed review)
Minimize customer service inquiries resulting from valid order rejection.
Control fraud risk tolerance
Free multi-language shopping cart and checkout payment page
VeriPayment.com provides verification and compliance services that allow businesses to:
Verify specific customer data during non-face-to-face transactions
Utilize additional data points for fraud detection
Comply with government policies

Process in multiple currencies
24/7 call center support
Complete webmaster administration
Individually assigned account managers
Integrated fraud prevention to reduce chargebacks
Payouts every 7 days
Easy installation options for both UNIX and NT Servers
Complete SSL encryption
New password protection features
Verified identity accounts
Too busy with your marketing campaigns and no time to take phone orders or cater and search for each individual customer? Are you based offshore and cannot offer an 1-800 number? VeriPayment.com professional services team members are some of the... (more)
The ISO Program allows partners to refer potential clients to Veripayment.com in return for the highest revenue commission for those accounts that are successfully acquired. Our ISO Partners offer Veripayment.com payment solutions to their clients... (more)